FROM SPHERE TO SPECIALTY
Only Biofinity®
Advanced contact lenses
designed to work in harmony
with your eyes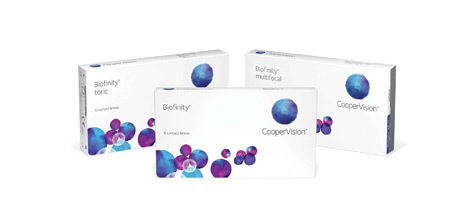 Everything you want in a lens
Biofinity® contact lenses feature an ideal balance of three elements essential to comfort, breathability and visual performance.
Lens Material
Aquaform® Technology
Aquaform® Technology combines a unique balance of high oxygen permeability and naturally wettable material to keep eyes clear, white and healthier.
Breathable
Biofinity® lens with Aquaform® Technology can deliver increased breathability and sustain a high level of oxygen transmissibility.
Smooth and Comfortable
Biofinity® lenses have a smooth, naturally wettable surface with a specially rounded edge design that minimizes any feeling of the lens edge against your eyelid when you blink.
Optics
Unique Front Surface Design improves visual performance
* for short-sighted and long-sighted
Aberration Neutralizing System designed to neutralize spherical aberration in the eye, providing remarkable visual performance.
Locate a store near you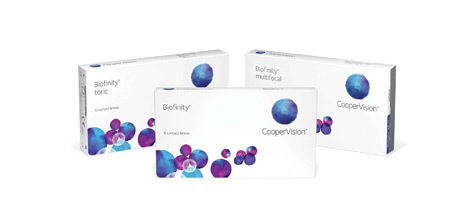 Materials
Water Content
Base Curve
Diameter
Packaging
Sphere
Biofinity®
sphere
comfilcon A
48%
8.6mm
14.0mm
6-pack blisters
-0.50D to -6.00D (0.25D steps)
-6.50D to -12.00D (0.50 steps)
Biofinity®
toric
comfilcon A
48%
8.7mm
14.5mm
6-pack blisters
Plano to -6.00D (0.25D steps)
-6.50D to -10.00D (0.50D steps)
Biofinity®
multifocal
comfilcon A
48%
8.6mm
14.0mm
3-pack blisters
+2.00D to -8.00D
(0.50D steps after -6.00D)
← Swipe →