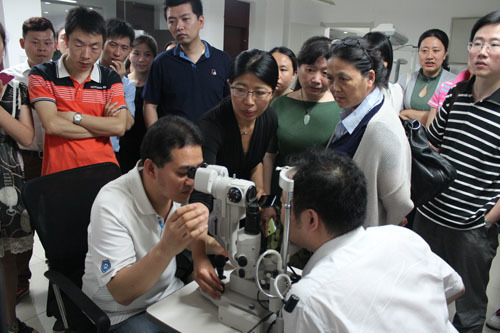 2014 marks the first-ever IACLE Contact Lens Educator of the Year Awards to recognise and reward achievements in contact lens education worldwide.
Sponsored by CooperVision and supported by the British Contact Lens Association, three prestigious awards will be presented in this first year:
IACLE Contact Lens Educator of the Year will be awarded to three individuals, one from each of IACLE's three regions:
Asia Pacific
Europe, Middle-East and Africa
Americas
The 2014 awards will be presented at the British Contact Lens Association Clinical Conference & Exhibition, taking place in Birmingham, UK from Friday 6 th to Sunday 9 th June 2014. IACLE's Education Day will be held in Birmingham on Thursday 5 th June to coincide with the conference.
All three regional winners must be available to attend these events and will each receive:
A generous award towards the cost of travel and accommodation, thanks to sponsorship from CooperVision.
A full delegate package to attend the British Contact Lens Association Clinical Conference & Exhibition, thanks to the generous support of the BCLA.
A place at the IACLE Education Day featuring lectures and workshops, followed by a dinner in the evening.
A certificate to mark the regional awards, to be presented at the events.
About The Awards
The winners of these awards will demonstrate a high level of commitment to IACLE and to helping fulfil its mission to raise the standard of contact lens education worldwide. This honour is aimed at individuals who are involved in teaching in the field of contact lenses and have demonstrated an innovative educational approach in their institution, country or region. Innovations in educational research related to contact lenses or provision of invaluable resources to students will also be considered.
The IACLE Contact Lens Educator of the Year Awards are open to all IACLE members from any country, with preference given to members who are active FIACLEs (Fellows of IACLE) and / or have attempted the IACLE Fellowship Exam.
It is intended that the awards will recognise work by those who are established contact lens teachers. Equally, the award may be given in recognition of a useful educational contribution by an IACLE Associate Member fulfilling the criteria for this category of membership. Click here for membership criteria for each category.
How To Enter
To enter the IACLE Contact Lens Educator of the Year Awards, educators need to submit up to 500 words explaining:
How they are actively involved in IACLE
The impact IACLE has had on their teaching / their institution
Details of innovations in teaching practice or novel methods they use in education or research
Their dedication to contact lens education and IACLE
How they will take the information gained at the BCLA and IACLE events and apply that to their teaching / institution
Please note that individuals can self-nominate or be nominated by another IACLE member / Fellow but must be available to travel to the UK to receive the award. BCLA registration includes a full delegate package but excludes the Gala Dinner. More details of the BCLA Clinical Conference & Exhibition at www.bcla.org.uk.
The deadline for entries for the 2014 awards is midnight on Friday 28th February. Entries should be submitted by email to IACLE Director of Operations Bonnie Boshart at b.boshart@iacle.org.
Entries will be reviewed by the Executive Board and their decision will be final. The winner will be announced by Friday 28th March at the latest.
IACLE President Dr Shehzad Naroo encouraged members to take advantage of the awards and submit their entries: 'This is a great accolade, recognising ordinary IACLE members and Fellows. It acknowledges best practice in contact lens education and assessment which is at the core of IACLE's mission.'
Click here for details of the IACLE Travel Award for an educator starting out on his / her career.